Besties, Bites, & Bubbly: DIY Galentine's Table Runner & Bar Backdrop
February is upon us! That means its the month of celebrating all things love, right?! I know some people aren't the biggest fans of Valentine's Day, but I love how many people have started celebrating Galentine's Day! Originally from the TV show, Parks and Rec, I love how this occasion has developed into a full-blown holiday for celebrating your best gal pals.
I usually enjoy decorating for Valentine's day and hosting something myself, but this year I've been traveling a lot for my day job, so I didn't get a chance to throw anything this year. When my friend Jackie from Sprinkles & Confetti asked me to help her with a playdate for her kiddos and a Galentine's gathering, I jumped at the chance! It gave me an excuse to do a few projects even though I couldn't do the hosting myself.
DIY XOXO Table Runner
Jackie's theme was Besties, Bites, and Bubbly and she wanted to create a festive table and a bubbly bar for the group to enjoy. I often start tablescapes with a runner, but I usually purchase them, or use wrapping paper to create one. This time, I wanted to try my hand at making my own! Spoiler alert: it was super fun!
What You Need
White Table Runner

Dark Pink Craft Paint

Light Pink Craft Paint

2 Paint Brushes

Paper Plates or Paint Containers

Sheet or Canvas
I ordered a plain white runner from Amazon at a very reasonable price. The one I ordered had a nice border detail as well. Before starting the project, I ironed it to get out the creases.
If you live in a cold climate like me, you can't exactly take anything outside to paint these days! To ensure I didn't end up with any paint on my floors, I laid down an old sheet and placed the runner on top.
Select two paint brushes, keeping in mind the brush width. The thicker the brush you use, the thicker your letters will be. I decided on a medium-sized brush. I grabbed a value pack of brushes at my local Michaels, but you can also grab something similar on Amazon. I also picked up the two pink paints at Michaels as well, but linked to some similar colors on Amazon below if you don't have a craft store nearby.
Start at one end with the first color pink and switch colors each row to achieve a similar look. I also alternated letter sizes to create a more varied look. I did a smaller set of letters followed by a large set of letters and then repeated that pattern down the runner.
I found that starting with less paint and adding on more as needed was best. It helped create that brush stroke look and you can always add more paint, you can't take it away!
Let dry overnight.
Doesn't it look great on Jackie's table?! Make sure to head to Sprinkles & Confetti to check out the full like of Galentine's party supplies. The best part is all of the goodies get shipped right to your door!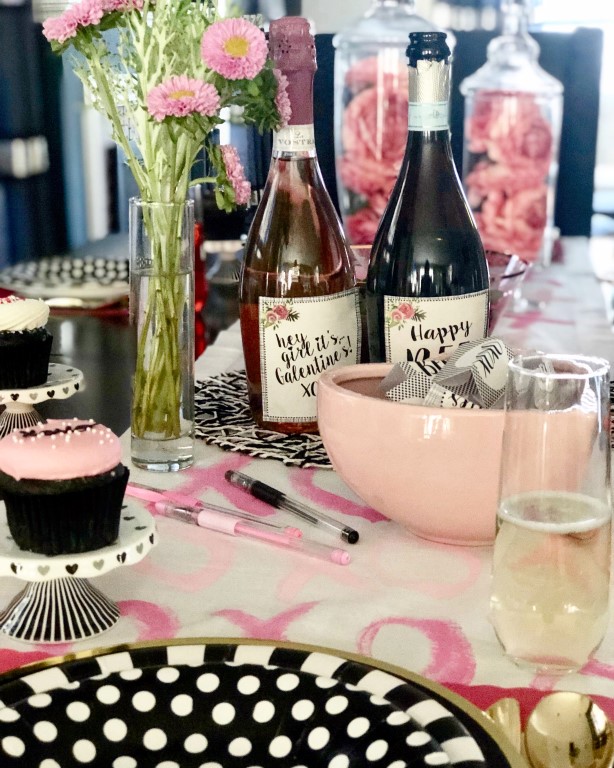 Bubbly Bar Backdrop
Any Galentine's Day celebration wouldn't be complete without a drink! A bar cart or drink station is such an easy way to add some pizzazz to your gathering. Check out my Love Potion bar from last year's Valentine festivities for more inspiration!
What You Need
Wrapping Paper

Vinyl or Stickers

Cricut (if using vinyl)
Creating a backdrop is a simple way to change up the look of your bar area. Grab a fun wrapping paper that fits the vibe of your gathering and add some signage using Cricut vinyl. No, Cricut? A similar look can be achieve using stickers, printing out lettering on cardstock and gluing it onto the wrapping paper, or by tracing on letters and filling them in with a dark marker.
Lately, I've had great luck finding durable wrapping paper in great patterns at Home Goods and Tuesday Morning. Hobby Lobby is always a good bet, too. Attach it to any wall safely using Command Strips or Painter's Tape.
Cheers to Valentine's Day and Galentine's Day!
Shop this Project:
This post contains affiliate links, which means we may receive a commission if you click a link and purchase something that we have recommended. While clicking these links won't cost you any extra money, they will help us keep this site up and running!
Pin for Later: