Forever 31: A 31st Birthday Party & DIY Koozies
I am starting to believe that old adage that the years go by faster as you get older. It seemed like just yesterday that I was celebrating my 30th birthday with a totally tubular '80s party, but 31 was arriving before I knew it!
One of my best friends has a birthday right around the same time and she wasn't able to celebrate big for her 30th last year, so we decided, why not do something fun for 31?! Our friends had also been itching for a good excuse to do a girl's trip, so we decided to invite the crew to a weekend in Austin, Texas.
Being on the road didn't stop us from branding the birthday weekend and bringing along some fun items to our Airbnb. Forget, Forever 21, we went with Forever 31! This gave us a fun tagline for the weekend and a color scheme of black and yellow like the clothing store chain uses.
If you are traveling somewhere, you can still bring party fun with you! Last summer, I took a party on the road for a camp-themed bachelorette party at a cabin, but thinking through air travel was a fun new challenge. Here are my tips, plus a DIY that you can fit in your carry-on!
Think Flat
Whether you are checking a bag or not, bulky items should be avoided for a party on-the-go! We rented an Airbnb, so I had pictures of the space we'd have to work with to make it a little festive for the weekend. There was a big kitchen island and a nice sized dining table that I knew could easily be dressed up a bit.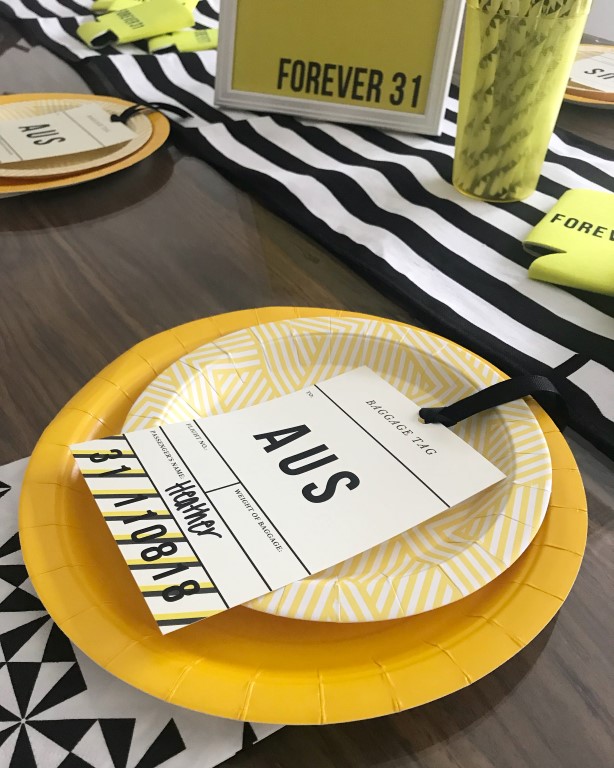 Pack the Printables
Regular readers of the blog know I am a HUGE fan of using printables for a party. They instantly add to your theme and are so easy to pop into frames that you already have around the house. I often work with amazing graphic designers, but for this event, I decided to create a couple of items using Canva since I didn't need a whole suite of goodies.
You can download the Forever 31 sign free below by clicking the button for your own use! Toss in a couple of frames in your suitcase wrapped in some clothes to protect the glass and you have instant decor!
I also found a free template on Canva for a luggage tag that I was able to customize to our color scheme and add some details relevant to our Austin location. They made perfect placecards. To jazz them up a bit, I used a hole punch and added on some black ribbon. I assembled them before the trip to avoid needing to bring supplies to assemble them in Austin.
A Travel Friendly DIY
We obviously needed a fun DIY item, but making a big backdrop or packing glassware wasn't an option! When my family gifted me a Cricut Easy Press for my birthday, I knew I could immediately put it to use with a DIY iron-on project. I ordered bright yellow koozies form Amazon and used iron-on material to create "Forever 31" koozies for everyone! If you don't have the Easy Press, you can use a regular iron as well.
They were a big hit and people threw them in their purses and brought them everywhere throughout the weekend! Austin is a pretty trendy city and we got so many compliments on them out at restaurants and bars. We even saw a lot of koozies for sale at little shops— so I think we were on trend!
Divide and Conquer
When you are bringing items elsewhere, others in the group can also bring goodies!
Somehow I missed grabbing a photo of the cute favor bags that my birthday bestie put together, but each guest also had a favor bag on their bed upon arrival! They were full of fun travel-sized beauty products, face masks, and other festive goodies. It was so fun to do the masks and anything the gals took home was small and fit in their bags.
Another one of our girlfriends put together an adorable printable shopping agenda for our Saturday outing. It helped keep the larger group on track and highlighted some of the great places to go.
A team effort results in a great getaway! Here were are out on our shopping adventure! Cheers to 31, I know it'll be a great year!
This post contains affiliate links, which means we may receive a commission if you click a link and purchase something that we have recommended. While clicking these links won't cost you any extra money, they will help us keep this site up and running!