A Wickedly Awesome DIY Halloween Mantel
In just a little more than a week, Halloween will be here! We have been soaking up all things Fall and spent the weekend at a Bed & Breakfast taking in the leaves changing. With weekend getaways on the brain, I decided to go with a "Wicked Witch Inn" theme.
Creating mantels for different holidays and seasons is one of my favorite things to do. The recent mantel I created for my husband's fantasy football draft got me loving the muted colors. While I have done brighter colors for Halloween in the past, I decided to stick with the black and white and natural tones this year. As a bonus, it coordinated with the skeleton table decor I have going on in the adjoining dining room.
To start, I brought back out my vintage window that has made appearances on past mantels. I am a big champion of cycling pieces in and out of your decor. I was getting a little bored of the window, but now that I took some time off from using it, I was excited to get it out again. To give it a spookier element, I draped on some tattered cloth from Dollar Tree.
If the wreath looks familiar, it's because it is a recycled piece, too! Remember how I added DIY paper hearts for the Valentine's day mantel? I removed the hearts and used my Cricut to cut out two sizes of bats. Using glue dots, I added them onto the wreath and hung it on the window with a small nail.
Every inn needs some signage! I had seen some wooden signs with various takes on the "Wicked Witch Inn," but decided a printable in a black frame I already had was a bit more economical. I whipped up a quick sign of my own and am sharing it as a free download for your personal decorating use! Click the button below to download it.
It looks great in an 11x14 black frame with a mat. As another quick DIY, I used some free witch clipart and used my Cricut to cut it out on black cardstock. I glued it to white cardstock and popped it in a frame as well. No Cricut? You can just print it out on paper, too. The cardstock just gives it a little more of a 3D look. To round out this little vignette, I added a few new pieces I picked up at Target in Bullseye's Playground. The broom and witches shoes were $3 each.
Every inn also needs a phone for reservations! This year, I had the exciting opportunity to partner again with Gemmy, a trendsetter in seasonal decor, to try out some of their fun Halloween decor pieces. You might remember last year's Boos Bar using their LED lighting. The candlestick telephone was perfect for the mantel and makes some fun spooky sounds! You can pick up this phone at your local Big Lots.
Without even knowing it, I also had purchased Gemmy's Halloween haunted radio at Target last year! I loved the vintage look of it and it plays spooky songs and plays old-time radio show bits perfect for Halloween. Can't you just imagine sitting at the Wicked Witch Inn by the fire and listening to this old, spooky radio?
The rest of the goodies were also items I pulled out of my good old Halloween holiday storage containers! The witches hat was from an old costume and I stuffed it with tissue paper to keep shape hanging on the ladder. The pom banner was a Target clearance find, post-Halloween, a few years ago. I highly recommend shopping the Halloween clearance to pick up items on the cheap that you can use next year! A lot of times you find things you can use all year long.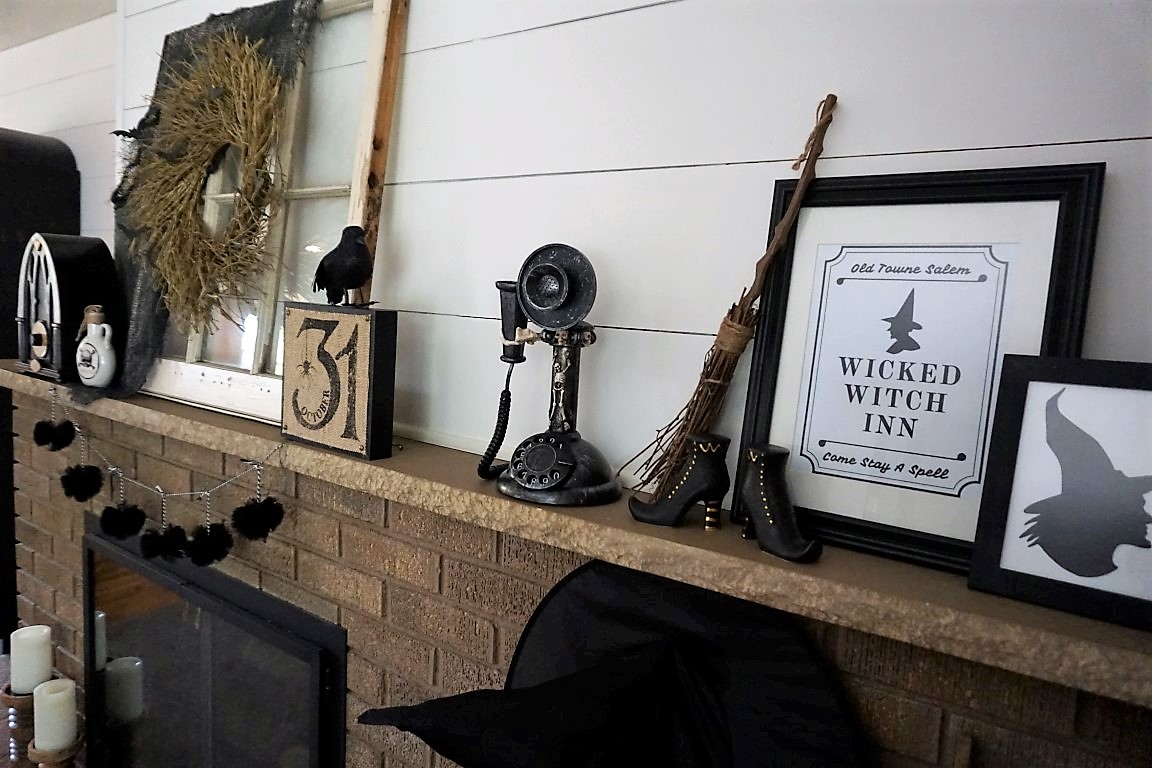 This post contains affiliate links, which means we may receive a commission if you click a link and purchase something that we have recommended. While clicking these links won't cost you any extra money, they will help us keep this site up and running!
Shop This Look: